about stinkerboy
---
THE ORIGINS
It all started with my son asking me to read books with "poopy words". So I would change the stories and add farts and poop, and he would crack up. From there, I thought why isn't their a great children's book about farts. That is where the Stinkerboy idea came from.
WHO IS THE BOOK WRITTEN FOR?
The book was written specifically for my boys, who were 3 and 6 at the time the book was written. It was also meant to be a bedtime book, so the story is short, only 20 pages long. If the book takes off I may write a longer more sophisticated version for older kids.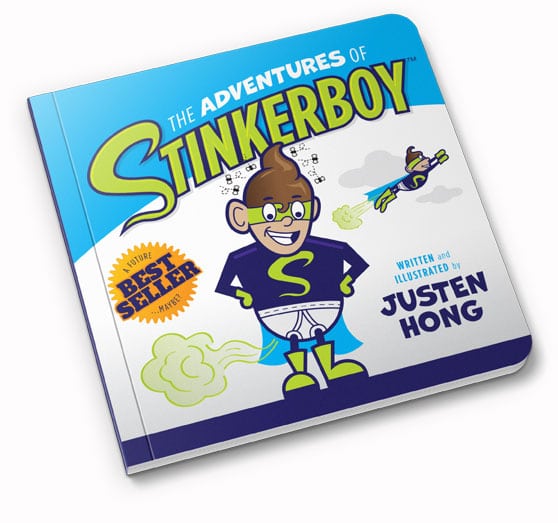 ---
INITIAL PRESS RELEASE:
Local designer debuts self-published children's book: The Adventures of Stinkerboy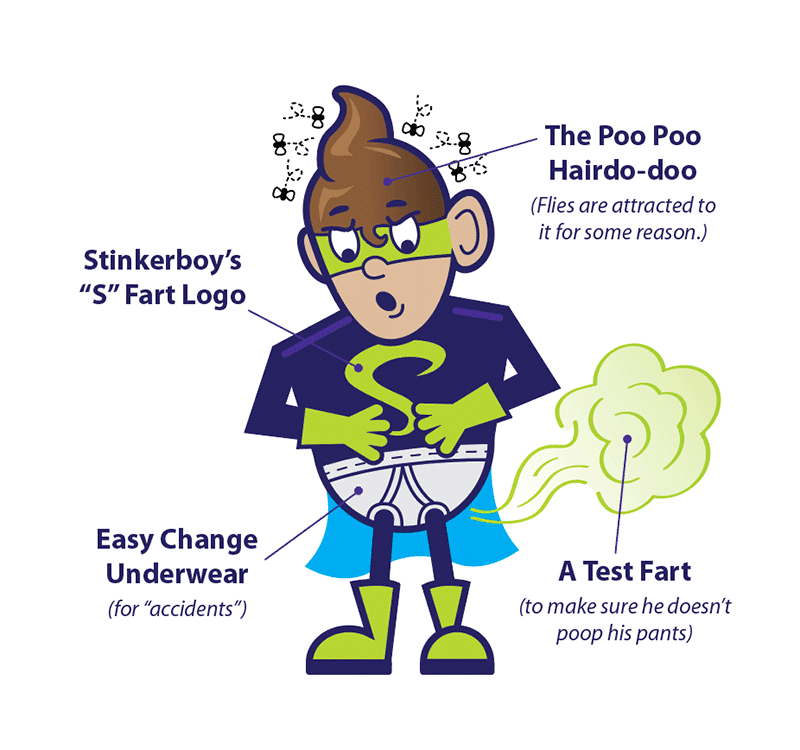 ST. LOUIS – April 20, 2020… Justen Hong, a Caseyville, Ill.-based graphic designer and founder of award-winning logo and web design company Visual Lure, today announced the recent release of his first children's book. Written and illustrated by Hong, The Adventures of Stinkerboy chronicles the flatulence-filled journey of a kid with unique superpowers as he hones his abilities and, ultimately, uses them to save the planet from total destruction.
According to Hong, the idea originated from story time with his sons. He combined his children's favorite variations on popular bedtime stories with his love for sophomoric humor to create the short picture book, which is both written and illustrated by him.
"My son often requested I change the words of his bedtime stories to feature farts and poop. He got such a kick out of it that it sparked the idea for an entire book," Hong said. "This book, while short, incorporates not only my immature desire to have the word 'farts' printed in a published manuscript, but it also gave me a new way to utilize my design skills. I just hope parents and children, alike, enjoy this project as much as I do."
In addition to his debut as a children's author, Hong has received numerous recognitions for his creativity in logo designs. He has more than 20 years of experience in branding, graphic and web design.
Hong began his art education at Eastern Illinois University and went on to receive his Bachelor of Arts in Graphic Design from Southern Illinois University Edwardsville. Hong founded Visual Lure in 2001, striving to develop creative, eye-catching designs while maintaining clear communications with the client. The company, which serves clients in St. Louis, Southern Illinois and beyond, aims to develop long-term, lasting relationships with clients in order to build a mutual interest in the success of their business. To learn more, visit Stinkerboy.com, or contact Justen Hong at (618) 407-9231.
---
READ THE FIRST 3 PAGES:
Click the pages below to enlarge.